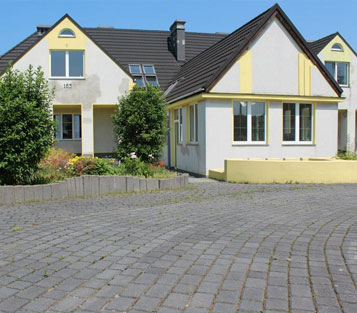 Myszków

Silesian province governor Permit No. PS / II / 9420/2 / 6/2013
The doors of the private care home "Zapiecek" in Myszków are open to all those who, despite the great love and devotion of their loved ones, cannot remain in their care.
Private Care Home "Zapiecek" in Myszków is located in the district Będusz. It belongs to a class B exclusive, with the highest quality care hour and daily for the elderly, the disabled, Alzheimer's disease and those who indeed are healthy, but they live longer alone simply do not want. This is a new, comfortable hotel located in a forest, created on the model of the Dutch "home - a village". Quiet neighborhood and picturesque surroundings make Your closest they will feel great here relaxed.
"Zapiecek inspires confidence - it is a modern, superbly equipped facility, adapted to protect those for whom independent living has become too difficult. We make it easier by providing our residents with a comfortable stay in a care home modelled on the highest standard of a Dutch "home-village".
The uniqueness of this facility is underlined by its superb location - on the secluded edge of a forest - and its constant contact with centres abroad, so that we draw inspiration for our care from the world's best models.
Why a care home in Myszków?
wonderful surroundings;;

a large, carefully tended garden;;

excellent cuisine;

no architectural barriers;

presence of pets..
We provide:
a stay in a luxury resort;

24-hour continuous professional care - with guaranteed medical care;

carefully selected nutritional programmes and wholesome meals from our own kitchen;

occupational therapy in many variations;

rehabilitation

occasional or seasonal activities.
COMFORT
The luxurious conditions of the stay are confirmed by our Guest and family members.
Our guarantees:
very high standard of residence;

small number of residents;

accommodation in spacious 1,2,3-bed rooms with bathrooms;

the magnificently designed "heart" of the care home - the living room with fireplace.
CARE
We provide care in accordance with the world's best practice for this type of facility;
Our guarantees:
professional nursing staff watching over you 24 hours a day;

permanent access to a general miedical care;

rehabilitation and physiotherapy programmes tailored to the needs of each individual resident;

individualised nutritional programmes with 5 meals a day: 3 main meals and 2 additional meals.
RELATIVES
The freedom and intimacy of meetings with relatives and friends is our recipe for a successful every day at the "Zapieck".".
Our guarantees:
the possibility to receive guests at your convenience;

clear and quick communication with the staff;

possibility of celebrating important events for the resident

interesting ideas for leisure activities - in the nursing home or in the beautiful backyard garden or nearby forest.
ATTRACTIONS
We prove that a care home for the elderly is a place where you can enjoy every moment of life.
Our guarantees:
imaginative additional activities, e.g. drawing, painting, knitting, dancing, singing;

the opportunity to develop and polish your talents under the guidance of professional entertainers or in the privacy of your own room;

recreation and relaxation in the comfort of the "Zapieck" or outside.
FAQ
From whom can I obtain information about the formalities required to receive a person in need of care?

Information can be obtained from any member of staff at our centre, but it is best to contact the secretariat.
How long do I have to wait for admission to the "Zapieck" in Myszków?

This depends on the availability of places in the centre. However, it may happen that a place will be allocated immediately after an application is submitted by a Pensioner or their carers.

How will I know how long I have to wait for admission to a care home?

We provide comprehensive information about the planned admission date on an ongoing basis and will inform you immediately if a place becomes available.

Will a person with a motor disability be admitted to the "Zapieck"?

Yes. Motor disabilities are not an obstacle, as our care home in Myszków is free of architectural barriers.

I would like to put my mother in care, but on a permanent basis. Is this possible?

Yes - our residents can stay in the Myszków "Zapieck" without any time restrictions.

I have looked at various retirement homes. What makes your centre different from others?

A guarantee of luxury. It is a centre that functions on the basis of the best European and world models - in contact with nature and domestic animals. In addition to a comfortable stay, we enable our residents to develop their passions and provide attractive leisure activities.

I sometimes go away for a few days and have no one to leave my father with. Can you also take care of him for such a short period?

Yes, as long as there are vacancies. It is best to contact us in advance of your planned departure date. Your father will be taken into care once the formalities have been completed.

I would like to take my mother home for holidays and other family events. Is this possible?

Yes. All you have to do is notify the administrative staff in advance of your intention to do so.

My father reacts with allergies to certain foods. Will the people preparing the meals bear this in mind?

Of course. The staff in our care home prepares meals according to an individual dietary plan developed by a qualified dietician.

My husband has Alzheimer's disease. During his stay in the "Zapiecku", are the medicines and other medical supplies and consultations with doctors provided by the care home or by me?

Care home. It is important to give the staff all the information about the senior's health and habits that may be useful during their stay in the care home.

My mother is a very mobile person but has dementia. Won't she get lost on the grounds of the care home in Myszków?

No. Our residents remain under the careful observation of the staff. In addition, the grounds of the centre are fenced.
Contact
Contact us!
Here you can find us:
ul. Wyzwolenia 165
42-300 Myszków
Tel.: 519 562 027, 513 361 026