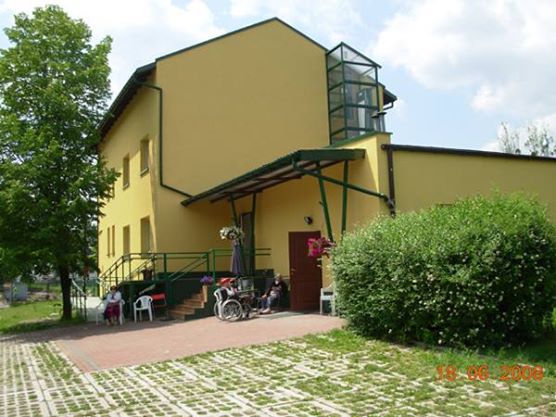 Nursing home in Rogoźnik (near the city of Katowice in Silesia)

Authorisation of the Governor of Silesia No. PS/II/9041/11/2/07 (Silesia Katowice)
Private Care Home Silesia and Pension for the Elderly "Zapiecek" in Rogoznik was established because we know that the autumn of life does not have to be difficult, grey and saturated with loneliness or fear of how long you will be able to live independently or whether you will have enough energy, time and skills to care for yourself. In our care home, the autumn of life takes on beautiful colours. Here, life is active and healthy again - but without haste and without stress, always at the pace best suited to the individual resident.
""Zapiecek" in Rogoźnik is a unique place: it is located in the modern Silesian agglomeration (not far from Katowice) and at the same time is in a secluded area with idyllic landscapes. It provides a safe refuge for people who need care - including seniors with Alzheimer's disease or senile dementia - and those who have decided to swap their previous loneliness for the company of other people. Residents can visit without restriction - the advantage is that they are only a short distance from the heart of Silesia and Katowice, as well as being very well connected to the Silesian metropolitan area - it is easy to get here or even to fly, as there is a Pyrzowice airport just 12 km from Rogoźnik.
Advantages of the "Zapiecek" nursing home in Rogoznik:
vicinity of Katowice / Silesia

the facility operates as a nursing home and as a pension for seniors;

idyllic landscape - "Zapiecek" is located in a valley between hills;

good conditions for outdoor activities - the Rogoźnik Reservoir is in the neighbourhood;

large garden

jacuzzi;

no architectural barriers;

easy access by car or public transport; proximity to Pyrzowice airport.
Zapiecek care home (near Katowice / Silesia) - we provide:
comfortable stay - short or long term;

professional care (including specialist medical care);

rehabilitację

rehabilitation home cooking - meals made of healthy and wholesome products;

plenty of space inside and outside the home

individual approach to each resident.
COMFORT
A truly homely stay in an idyllic location, yet well connected to the Silesian agglomeration (buses) and the world (airport).
Our guarantees:
a modernly arranged resort providing a high standard of accommodation and comforts - also for the mobility impaired;

accommodation in tasteful, tidy and clean 1,2,3-bed rooms with bathrooms;;

comfort due to the well-thought-out layout of the rooms and common areas;

adapted to the needs of people with reduced mobility.
CARE
The safety of our residents is supervised 24/7 by a team of professionals with proven qualifications to care for the elderly, those with Alzheimer's disease or dementia.
Our guarantees:
24 hours a day care by experienced-staff continuously improving their qualifications;

also short-term stays, e.g. convalescence or care for an elderly person in the absence of relatives;

care provided by medical personnel: general practitioner and, if necessary, specialist doctor, rehabilitation therapist, psychologist;a;

5 meals a day at fixed times (3 main meals and 2 additional meals);;

individual dietary programme for each resident..
RELATIVES
The residents can be visited daily without restrictions. This is facilitated by excellent transport links to the centre of the Silesian agglomeration and surrounding towns.
Our guarantees:
no restrictions on the date and frequency of visits;

possibility of celebrating events important to the resident with his/her Relatives - both in the "Zapieck" and outside the nursing home;

conditions conducive to the privacy of meetings.
ATTRACTIONS
We take care of the mental well-being of the Residents and their physical activity - also outdoors.
Our guarantees:
jacuzzi available to Residents without restrictions;

possibility of outdoor recreation in the immediate vicinity of the nursing home - in the carefully maintained garden - or at the nearby Rogoźnik Reservoir;;

surroundings abundant in historical monuments;

additional leisure activities organised by the leisure-time animators;

the possibility of sunbathing at the lake and using the services of a leisure centre in the neighbourhood.
FAQ
As a first step, please contact us in person, by telephone or by e-mail. We will provide you with all the information about the documents and formalities required for admission. You will find all the necessary contact details on our website on "Contact" subpage.
We are an elderly couple. Will the centre guarantee our stay in one double room with bathroom?

Yes.

How long do I have to wait to be admitted to "Zapieck" in Rogoźnik?

If there are vacancies and all formalities are completed, it is possible to be admitted immediately. If there are no vacancies, we will keep you informed of the planned admission date.

Can people with physical disabilities also benefit from a stay in the garden?

Yes, as our care home is free of architectural barriers and there is a safe wheelchair-accessible exit platform leading to the space outside the building.

Do you also care for non-disabled seniors?

The formalities that need to be fulfilled.

How do the services offered by a care home differ from a boarding home?

Yes - we welcome older people into our home regardless of their condition.

I am in my 80s. Can I stay at the "Zapieck" in Rogoznik if my relatives are going on holiday and I, although healthy and fit, do not want to be alone while they are away?

Of course. You can benefit from staying with us. The facility also operates as a guesthouse for the elderly. It is advisable to contact us early enough to book a place.

I am not sure if I will be comfortable in the presence of a roommate. Can I change from living in a double room to a single room during my stay at the "Zapieck"?

Yes, if you wish and if there is a vacant room. A change of accommodation requires the signing of an agreement.

How do you choose the meals for the guests?

The menu is prepared by our dietician and the meals are prepared in our kitchen. Each guest is fed according to an individual diet designed specifically for them.

Who is responsible for ensuring that appointments with medical specialists are made during an older person's stay at the "Zapiecki"? - Centre staff or the family?

Centre staff.

Will I be able to use the jacuzzi in the "Zapiecek" care home and how much does it cost?

If there are no health contraindications, the jacuzzi can be used. We do not charge additional fees to our residents..

Can my father resign on his own from the "Zapiecek" if I was the one who arranged all the paperwork for his stay in the care home?

Yes, if he is not an incapacitated person. If your father's state of health raises any concerns among the staff about whether he will be able to manage on his own, we will contact you immediately about resigning.

Can I bring personal mementos, favourite books and my dog to the Zapieck?

Souvenirs and books - yes. Regarding your four-legged pet, please contact us as this requires individual arrangements.
Contact
Contact us!
Directions:
Zapiecek Care home
ul. Kościuszki 224
42-582 Rogoźnik (Katowice / Śląsk)
Tel.: 519 562 027; 513 361026; 519 185 677.